The Best Wedding Proposal Ideas are not always what you would think they are.  Most of the time your significant other is just looking for you to do something special.  This doesn't mean you have to spend an arm and a leg, it just means you have to put some thought into it (which if you reading this most, means you have already started).
My suggestion is to think about what is special to them?  What kinds of things do they enjoy doing?  Do they like the outdoors or do they prefer a swanky restaurant with candles?  This will set your mood and get you on the right track to planning the proposal.  Not everyone wants a romantic dinner proposal and not all want a unique outdoor wedding proposal either.
[sociallocker]
Most of the time they already knows what they want.  The best wedding proposal ideas stem from something organic.  In most cases, they have probably been thinking about their wedding proposal since they were little.  If you think can, try and get some info from them or a dear friend about the perfect proposal.  Don't be overtly obvious, but try and get some tips that will give you a hint of direction.  See if they want a big ordeal with family and friends involved or if they want a small private proposal.
Surprises are going to be tough but oh so worth it.  Most of the time they already know when they are going to be proposed to (or have a general idea), but they still want to be surprised.  So take care to keep it a secret, no matter what they say, they want to be surprised.  If you think they are on to you, or even worse you already slipped and told, don't worry, there is still hope.  Try to throw them off using distractions and other people, send them with friends shopping or some other event that is opposite of a proposal.  Then throughout the actual proposal offer up small surprises like having their family jump out and surprise them or have your dog carrying the ring.  All kinds of little things can make a wedding proposal extra special and remember, the best wedding proposal ideas are whatever you end up doing, whatever you do as long as you put a ring on it will be perfect!!!
With all of that said, I want to offer you our services.  We are wedding photographers that would love to help you out.  We offer a limited number of free proposal sessions where we photograph your proposal and help you plan the photography out so that you can capture this most perfect moment.  Contact us if this is something you would like and keep us in mind when you are looking for your Houston wedding photographer
Check out this great Outdoor Proposal Idea
Here are some proposals we have shot that were a ton of fun.
This is a styled proposal where the groom wanted a 1950's Rockabilly themed proposal
This was a simply romantic outdoor wedding proposal.
1. Scavenger Hunt – This can be elaborate or simple, either way make it personal and she will love it.
2.  Christmas Gift – Wrap the engagement ring as gift under the tree – be on a knee after she opens it. This can be for any holiday or gift giving day.
3.  Give her some macaroons! – Macaroons are soft and sweet, include them for an extra touch of romance.
4.  Flash Mob – This is time intensive but always worth it.
5.  Christmas Family Photo Proposal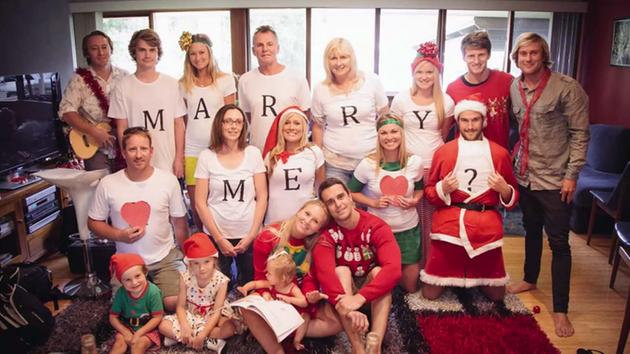 Here are some crazy proposal Videos:

And for the normal person here are a few other places to find some good ideas also!
The Knot's 50 Romantic Ways to Propose
[/sociallocker]